Facebook

Business Page = FREE Advertising Real Estate
"We hep businesses increase their sales online using powerful Social Media Tactics"
"What are you doing right now to promote your business and get more sales?"
Does your business have a solid Facebook Marketing strategy?  If not…Why Not?…The Unique Marketing HHI marketing staff  has all the resources to create a friendly, traffic generating marketing program to increase your bottom line, proven ROI. 
If your page consist of a wall and information page you are missing a major opportunity.  A custom landing page welcoming your guests is important to communicate your brand, service or products.  It is not selling but more of an introduction to your business.
Please look at the page examples below; custom images, inventory, opt in e-mail marketing, video's, back linking and hyper-linking to website.  This is just a few of the examples of what we can offer your business.  Contact us to schedule your meeting today…
**Video Below Explaining Facebook Fan Pages for Local Businesses** 
httpv://www.youtube.com/watch?v=O5_MhhTEpd0″>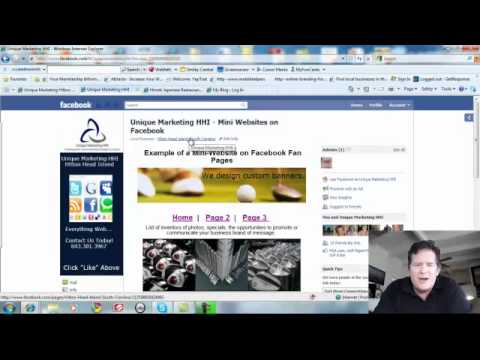 Facebook Users 550,000,000
1,000,000,000 Facebook users Estimated by 2013. 
Where are you Advertising/Marketing your Business?
We created Hilton Head BMW pages….How about yours? 
Hilton Head BMW
Welcome Page….New 2011 BMW's Page….BMW Service Page

Sweepstakes/Contests on

Facebook
______________________________________
What is E-Mail Marketing?

How Can We Help Your Business?  A business must have an place for customers to sign up for a subscription letter or announcements from your business.  An opt in form is necessary to be successful in developing a solid email marketing campaign.  Please review the information below on how we can assist you in creating a great email campaign.  
 Do you have an opt in area for potential clients to sign up for a bonus, a discount, or even something for free?
Getting a name and an email address when people visit your Facebook page or your website is marketing GOLD. We'll create an opt in subscription form so you can build a list of potential customer's for your business.  
This allows you to send out messages through an autoresponder anytime featuring events, specials, and discounts to your customers that are interested in what you have to offer. 
We can set up an autoresponder email system which are preformatted messages so it's almost set and forget communication for marketing your business.  You can run your business and let us handle the marketing  part of your business.  This is one example of the services we provide for your business. 
Example of an opt in box below - You need one of these on your

Facebook

Page and your business website.
Opt in boxes are most effective when offering a discount for a product or something free to give the visitors when they fill in their information.  Businesses can track the success of campaigns in the back office of the autoresponder system.  Real time results on your various marketing campaigns building traffic to your website or social media sites. 

From A to Z marketing services for your business!
We offer everything from website design to email marketing for your business.  Contact us for a free evaluation of your marketing plan for your business.  Your first priority is having a website so customers can find your business online.  If you don't have a website you need to  contact me   ASAP so we can get your business seen by millions of potential customers overnight! 
If you already have a website and are not getting the results we can check and see if your website and marketing is setup correctly for  (SEO) Search Engine Optimization thus improving visibilty for your website on google, yahoo, and the other thousand search engines available online.  Contact me and we'll figure out what type of marketing is a perfect fit for your business.